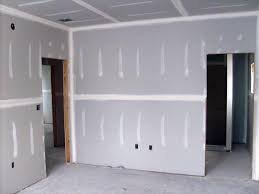 Drywall Installation: AccuContractor also come in very handy when you need to hang or finish your drywall. You can make lots of unnecessary mistakes while doing this, which can make your work appear very unprofessional, another solid benefit that come from choosing us.
You may have the misconception of DIY or be inclined to love the mess you'll create if you embark on it yourself rather than spending money on professionals, but trust me you will be surprise how cost effective it can be.
One of the biggest mistakes DIY make is to try to do it themselves then after messing up, turn around and call a professional who will in turn charge them again.
The construction material consisting of thin panels of gypsum board are called sheetrock or drywall. The board is composed of a layer of gypsum rock sandwiched between two layers of cardboard.
Drywall is use more in newer homes, wooden panels were used in some older homes. Drywall is use more than wooden panels because they allow the trade men to deliver a better finish job.
All drywall technicians are not the same, it takes experienced and a skilled person who has good technique in taping, skimming, blocking and finishing. If the job is done right, less sanding is required.
No Fields Found.